The Monster in the Closet: 10 Ways to Conquer a Fear of the Dark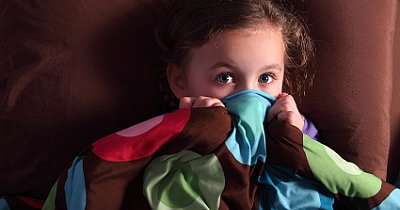 Fear of the dark is very common in childhood. Whether your child is scared of monsters in the closet, ghostly shadows on the ceiling, or just finds a darkened bedroom spooky for no particular reason, Circle of Moms members have some great tips for overcoming that fear of the dark.
1. A Small Lamp
A nightlight may be the first line of defense, but many children need a stronger light to feel reassured at nighttime. As Billie Jo shares in the Toddler Moms community: "The night light wasn't bright enough for them, so I bought a small lamp."
2. A Flashlight
Giving your child a small flashlight is another common way to address her fear of the dark. Tami D. advises: "They have great and fun flash lights these days just for kids...The kids have control of the light and if they leave it on all night, so be it."
3. Nightly Closet Checks
Check good monster hiding places with your child before bed to prove there are no scary creature lying in wait. Tracy S. recalls: "I would go into her room and open the closet and say  'Oh look nothing's in there, just the clothes,' then I would have her come over and look too. After a few nights, and a small night light, we haven't had any more problems."  Jodi A. describes a similar routine: "We went through a ritual of checking the cupboard each night, and then closing and locking the door."
4. Comfort Objects
"Try a magic toy or blanket or pillow," advises Erica R, one of many moms who found that their children were comforted by a stuffed animal that could fend off scary monsters. Aisha C. shares: "Her godmother gave her a stuffed monster. Burgandy faux fur body, spindly legs, wing arms, pink trumpet nose, big green eyes and antenna. My daughter loves this thing and it goes to bed with her. Maybe your son could get a 'good' monster to keep the 'bad' monsters away?"
5. Glow-in-the-dark Stars
Affixing glow-in-the-dark stars to bedroom walls may also calm nighttime fears, as Cate C. relays: "My daughter is scared of the dark too, we have glow-in-the-dark stars all over her room, and now she is fine with it."  Callie D. agrees: "The stars on the ceiling thing really is great."
6. Monster Spray or Dust
Magical "monster spray" (water in a spray bottle) and  "monster dust" (baby powder) are both very popular ways to quell a child's fear of the dark. Jessica H. shares: "We gave my son monster spray. Just a little squirt bottle with water and told him to spray it any time he got scared." Kris B. suggests adding a few drops of lavender essential oil to a spray bottle of water, because it's "a very calming, soothing scent before bed."
7.  Limit Scary Evening TV
Several moms also suggest saving potentially scary television shows or movies for daytime hours. As Alicia M. relays: "We don't let him watch anything before bed that might cause nightmares (including some cartoons)."
8. Dark Time
Another way to make the dark less scary is to purposefully spend time in the dark with your child and together, demystify all the mysterious shadows and shapes. As Jeneva W. explains: "We would sit in the dark and talk about what everything was. That scary looking thing on the wall was just '_____' and that scary noise was just '_____'. It is usually stuff they can see/hear in the day but the dark puts a whole new idea in their head."
9. String of Lights
After several nightlights failed to impress Becky T.'s daughter, she found a more festive solution for brightening the bedroom. "For Christmas she got a string of lights and we wrapped that around her window frame and she loves them. Every night before bed she turns them on and falls to sleep."
10. Understand the Underlying Fear
Many moms recommend teasing out what exactly is frightening your child. As Stacey suggests: "Have you asked him about the monsters? What they are doing? What they look like? etc....They may be symbolic of a fear? Have you had any changes in your house or routine lately?" Discussing and resolving an underlying worry or insecurity may be the key to dissipating your child's fear of the dark. After all, Stacey adds, "If there is some underlying cause for these monsters, even the strongest monster spray/powder/fight or delivery box won't take them away."